Living in Malaysia, there is really only one season, which is summer. It is hot all year round with variation in the amount of rainfall.
Having said that, it feels like spring in our house which has been on the receiving end of 'new births'. (Not mine, I should clarify.)
I became rather fond of gardening in recent months. It started with us moving into our new home and we thought some greenery would spruce up the bare balcony. Plus, I thought it would be a good idea to introduce DD to living things and instill the idea of responsibility (before we move on to pets).
I am rather green (haha, I can't help the pun) to plants and nature so the maiden trip to the nursery was an eye opener. I didn't know you can buy plants outside the florists and supermarkets. Haha. The uncle was particularly nice to me and offered plenty of advice. I think he was rather worried I was going to kill the plants eventually.
The plants were delivered to our home and got all set up. Weeks came and went, they didn't die. In fact, most of them seemed to be thriving.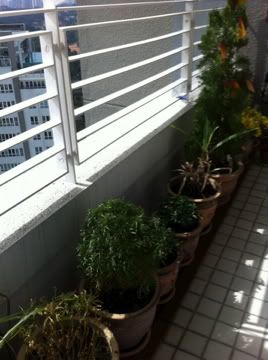 I got adventurous and planted some chilli (both chilli padi and big red chilli) and lime. I had a 10% hope of any positive outcome. Still, I got DD to water the pot daily.
When we returned home after Chinese New Year, I was delighted to see some green shoots. Real green shoots, not the Bernanke-imagined kind.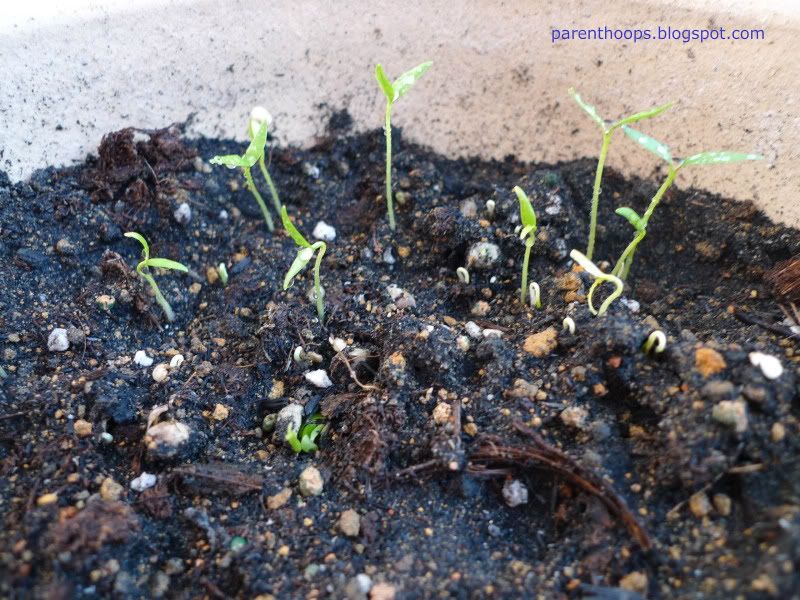 I made the rookie mistake of planting both chilli and lime in the same pot. When the seedlings came out, I happily told DH we are going to get chilli lime. He shook his head and said that wasn't going to happen. Then I fret about not being able to tell which is chilli or lime. It has been weeks, the seedlings are now bigger and it's obvious from the leaves. And if I am really unsure, I can always wait till they fruit. :)
It's great having all these plants. DD loves helping me with watering the plants. Every night before bed, she would say 'night night' to each one of them and pat them. Very cute.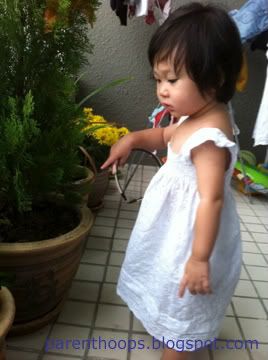 And then our fish gave birth less than three days after we bought the three of them.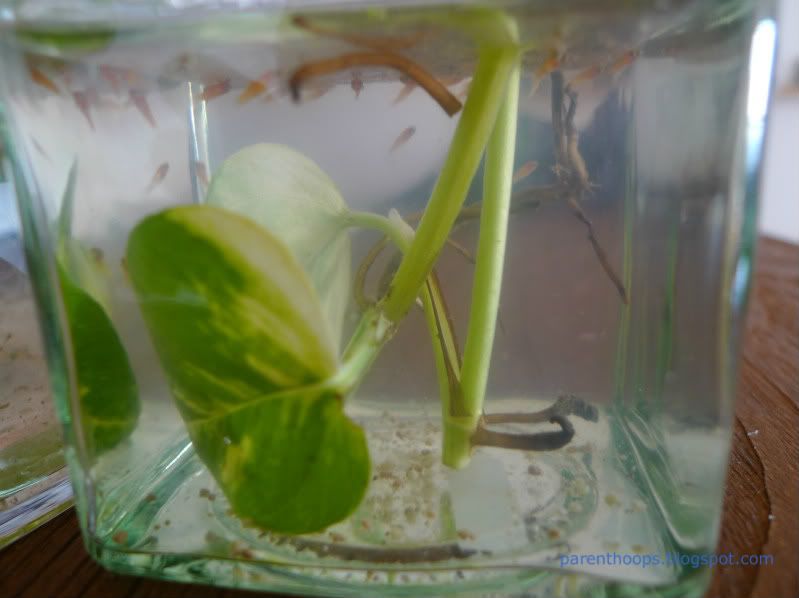 I think the fly (baby fish) were born live, rather than hatched. We had to separate them, in case the mother fish eats them because she forgets those are her offspring. Yes, apparently goldfish memory is not limited to goldfish. I counted 30 initially but eventually only three survived. We bought 3 and ended up with 6, a pretty good buy if you ask me. Great fun for DD too. She went hysterical when she spot the teeny tiny fly for the very first time. They are now much bigger, probably at the toddler stage. Mother fish is pregnant again though.
DD has to say 'morning' to the fishes before going to the school. She wants to dip her chubby hand in to 'sayang' them.
Given her excitement, I think it could be a good idea to have some plants and pets at the school. Maybe more fishes or even rabbits. We will leave it to the kids to decide.
Then there was Valentine's Day. DH actually remembered without any reminders. On top of that, he bought me flowers (gasp!), making me a very happy mommy indeed.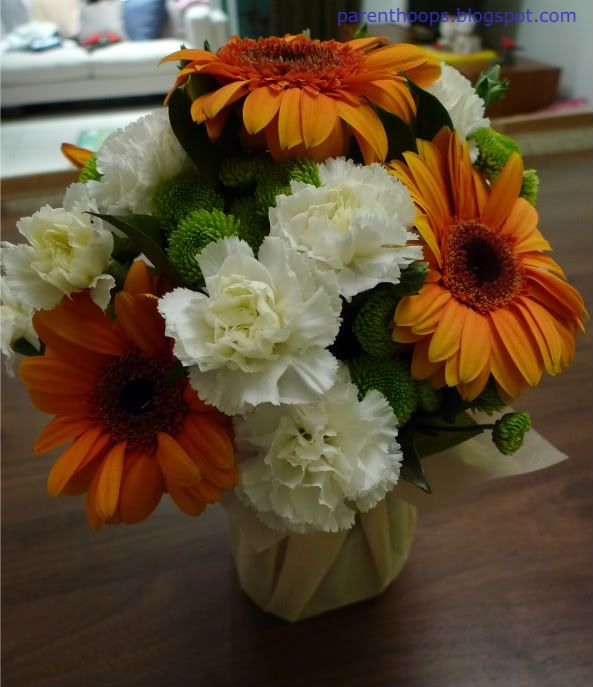 P.S. The chilli lime plants have grown pretty big and more have sprung up since the picture was last taken. If you are interested to adopt some chilli babies, do let me know.